POST JOB
Boost innovation and growth in your company with the top STEM talent from Vorsers!
Are you looking for passionate and skilled professionals to elevate your STEM projects? Vorsers is the go-to place for posting your job openings and finding the perfect candidates for your Science, Technology, Engineering, and Mathematics (STEM) positions.
At Vorsers, we understand the importance of attracting the right people for your organization. We specialize in connecting companies with the best and most qualified STEM talents. Our platform is optimized for STEM job postings, ensuring a wider reach among qualified professionals in these fields.
Post your job opening on Vorsers today and discover the benefits of a specialized platform that focuses on attracting qualified STEM professionals. Moreover, you'll benefit from our extensive marketing efforts, ensuring your job posting is seen by the right people at the right time.
Don't wait any longer and start attracting the best STEM talent for your organization now.
Choose a package that fits your requirements and share your job details with us.
To maintain a friendly and accessible platform for all, we kindly ask you to submit your job descriptions in English. This way, we can ensure that your vacancies reach a diverse audience of talented professionals. Thank you for your understanding and cooperation!
Price overview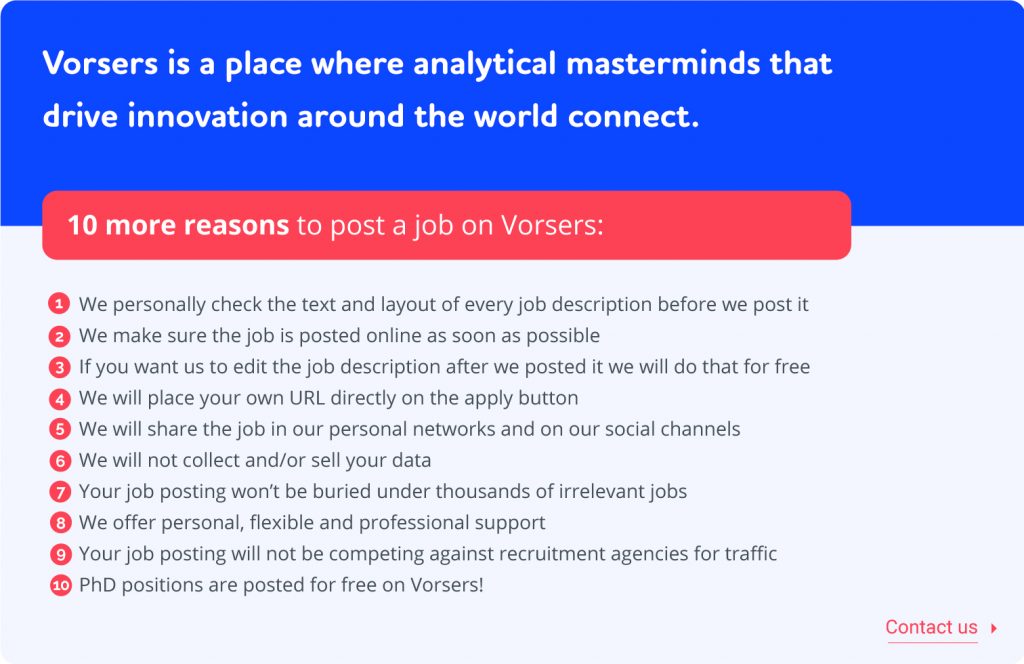 VORSERS CORE VALUES